Exciting things that you can do with Content Marketing
This week we're going to be talking about all of the exciting things that you can do with Content Marketing.
What is Content Marketing?
Content Marketing is two-fold. First, it's using content to give added value to whatever it is that you are selling and your connections with the customers. I'm making that attachment and that connection with your product. It's those toys that you get in the kids' meals and McDonald's. It's the toys in the cereal. They are the cartoons for GI Joe if they still have those cartoons on TV? That's a really important part of marketing because it gives added benefit.
Bridget and I first published a book for Small Businesses to help with their Online Marketing. The second part of this three-book series focuses on Nonprofits.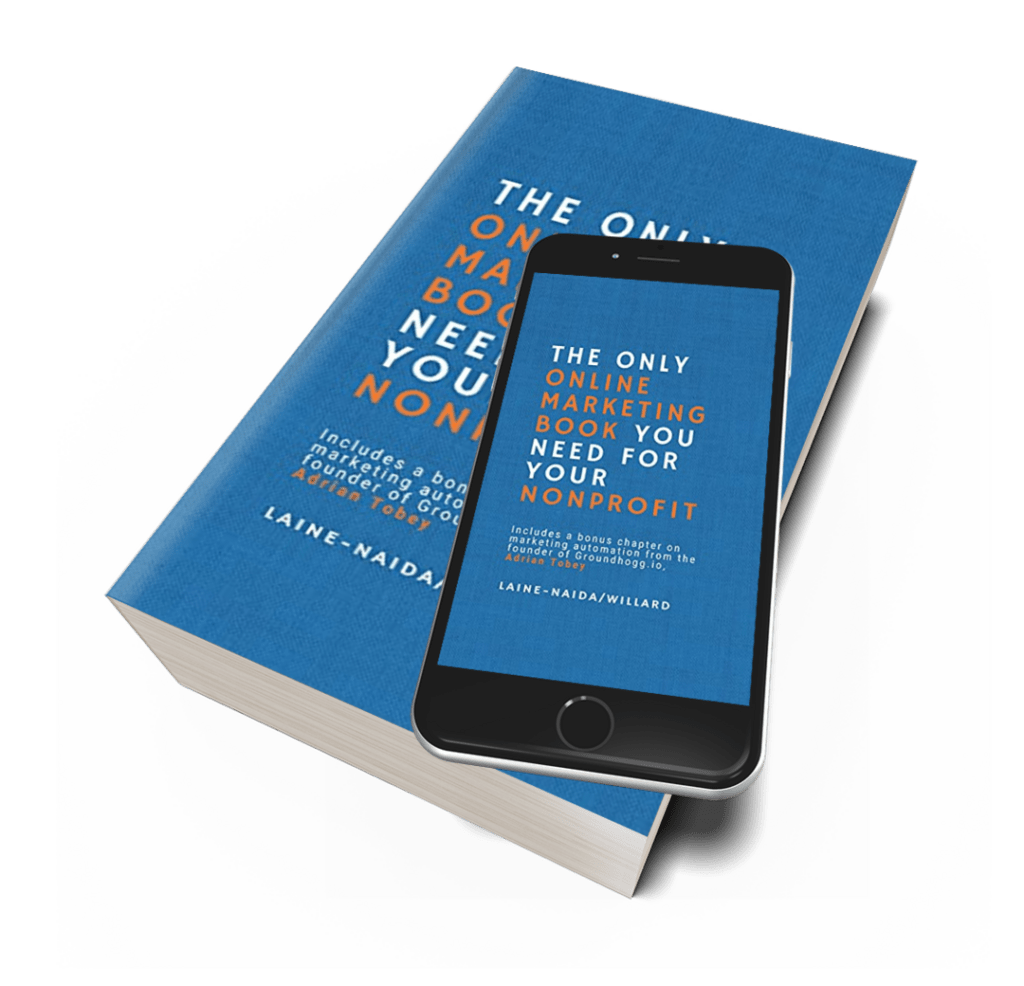 The Only Online Marketing Book You Need for Your Nonprofit
Your nonprofit is a business; treat it like one
Content Marketing is not a nice to have
Content is very important for Nonprofits to get into. We think it's required. It's not nice to have.
Online content marketing maybe isn't a toy. It could be a PDF, right? It could be a white paper that could be researched something that helps you. It could be a story. Email newsletters are part of content, marketing too. When we say content, we mean words. So for me, what I do is I write blog posts and publish them on my website to educate people so that they can either do it themselves or have enough knowledge to hire someone who knows what they're doing.
By bringing value, I mean, in marketing, we like to use these words and nobody knows what it means. I always say I put words on the internet. So what I'm doing is I'm writing an article to show you how to do something and tell you why you do it that way. So think Julia Childs so that you can go ahead and then make your meal and impress the boss's wife. In return, you're going to continue watching that Juliet child's show and you're going to buy.
Why Should Nonprofits use Content Marketing?
If there is a goal, it's we're educating our audience, but we want them to eventually buy something, not maybe specifically, but if you are to be a good audience member, you read something on the internet that somebody wrote, and it helped you. The best thing you could do is to share it. That's right. I don't even have to buy from that person if that blog post, if that article, if that ebook if that online Twitter course helped you – and Bridget's free course is now available by the way.
The best thing you can do is share it, but eventually, you can always tell people about it, right? So it's kind of building that relationship, I have the information you want education.
When it comes to strategy how can a small business use their very limited time to write or produce videos on their website to kind of build that audience?
Content Marketing Strategy for Nonprofits
Two of the most important things I tell my small business clients, and my nonprofit clients is, it's not going to happen tomorrow. It's something that's part of the process and you need to start it, but if your blog has two posts, it's never going to get 20 unless you start writing something. So if you do something once a month, at the end of the year, you've got 12 months. If you do it twice a month, but 24 posts. It doesn't have to be a book. You don't have to sweat it. It can be something as simple as, a recipe that goes well with one of your products. It can be an ebook. It can be a video like what we're doing here.
Start Small to Finish Big!
Content Marketing can be something very small. That's the first thing. And the second thing is that you don't need to do it by yourself and you don't need to think of this as something that's going to be costing you extra money because the really important thing about your content is, as you said, it's shareable and you've got your customers, you've got your members, you've got your family, you've got your employees who are your advocates. They are your multiplicators. They are the people who are going to share on social media.
Donor Stories, Community Building, Added Value. Content Marketing doesn't need to cost you money. It doesn't need to be perfect. It just needs to be out there. It is an important part of the strategy of connecting people, and leveraging volunteers and donors. A very important part of this strategy is just doing it, and sharing. Sharing is caring.
Just Do it
Don't be afraid to experiment. So I'm going to tell a tiny little case study. Now, Warren is one of my writers and we both have NDAs. So we can't tell you who this is for. We have a client that has a demographic of Americans who are 50 years plus who are college-educated and have disposable income to go on river cruises. We write about a lot of interesting things regarding Medicare and having a living trust and telling your kids that you're dating somebody talking about divorce – it's a lifestyle brand.
Experiment with your Content
So we've been experimenting. It's mostly been kind of fun, educational. Seniors can do yoga, that kind of stuff. But I wanted to make sure we had more travel and I wrote a couple of travel articles and thought, Warren, you've been a lot of places. Can you write something about secret spots, things that don't make you look like a tourist? When I went to Paris, I stayed in the ninth arrondissement I just walked around. We asked the concierge what the best place was to eat. And we went to all the places and he was right. Like, we didn't ask Yelp or Google maps. We asked the local people, we wanted to have the experience.
Everybody loves a lover
We came up with this great idea to talk about this fictional, couple of Bella and Wayne MacGyver. They're like kind of ditching the tour that they're on and they go through these adventures. We've done Berlin, Paris, London. This is just one part of all of this content. One of the people who responded on the Facebook page said, wow, this is like reading a story with actual suggestions of places to go. And I think that we hit something by accident. That's fun. And it's like the perfect content marketing. Like it's a cereal, you know, the way they used to do it, but then people are so hungry for traveling right now.
I think an important part of content marketing is that it's value-added, but it's got to be relevant too. It should connect very specifically with your audience. When we're talking about non-profits, this is something that they're doing to help people with – these extra things. It may not be so obvious because they're not seen as a sort of service or extras that they are normally used to providing, but they are, they're a very useful tool for community building. If you know your target group well enough, you will find those little added extras that would hit a cord.
Tell Your Story
Even telling the story of how you helped is good content. When I was working with give WP, we did these things called Gift Stories, which I believe they're still doing, how are these nonprofits making an impact. You must tell people what you're doing and how it's affecting your audience, right?
If you are selling, if you are saving sea turtles, for example, what did you do with that money when they donate on the donation form? How you're feeding the homeless, what happens with this $20? Is it one person? How am I helping?
It doesn't have to be how to do this, how to reach this group, just tell your story. Stories are ancient. Stories are in our DNA stories, help us relate.
The brand obsessions of your volunteer and donor community
There's a strong connection between the brand obsessions that we have and content marketing because that's where they come from. And maybe it's not as expected to have this sort of brand obsession for nonprofits, but we certainly have it for our sports clubs and probably any minor league, any local team. These are non-profits, they're community-sponsored, you know, church, choirs, any sort of local club, or schools, community theaters. They all have opportunities to do this sort of content marketing and to share stories. It's fun. It gets everyone involved and it's pretty much free if you're doing it yourself.
Your donor stories
I donate about 15% of my income, and that has something more to say about me, the donor than it does about the Nonprofit. And I think that if you can tell donor stories and ask them why they donate, then you're going to find more like-minded you tell their stories.
Maybe you can't tell the stories of the people you're helping because of privacy issues. But you could tell the stories of the people who donate because that it matters to them enough that they're willing to tell. And that is content marketing. You'll get more volunteers and more donors that way, the same way with small businesses, you tell your story.
It's not anything you can measure a Google analytics, but when you read that story and that's why your about page matters when you read that story, you connect that person. Boom.
This is important when it comes to getting donors. Because that moves up from the level of someone who is donating money. This is then a member of our community. And then it's added value that they are a part of the community.
Your Volunteers are your content marketing team
A lot of the millennials want to have jobs in which what they're doing for a living is changing the world. They work to pay the rent, but they want to do something that matters. So they volunteer and a lot of the millennials won't donate unless they can volunteer. So you have to think of donors and volunteers being the same, as a very similar set of people,
This is perfect because most nonprofits are not in a position to hire an agency or a social media team, but these volunteers can do this, they can take a picture, they can go onto Facebook, they can write a blog post. So you've got a complete circle there.
Our books are also audiobooks
I cannot wait to read about this in our next book. If only it was an audiobook, it would have already been written. As long as it's in Kindle and it's written in the Kindle format, Alexa will read it to you on your phone or at home.
You don't have to have a device, you just have to have the app. I think that's a great hidden feature. They don't advertise that, which is very odd. You don't need a Kindle. The Kindle app and it's platform areagnostic.
Hmm.
Well, I think there's something there for, Nonprofits to think about.
Thanks to Unsplash for the image! https://unsplash.com/@jmuniz
Have our book but have questions?