Last Updated on July 21, 2023
This post was written originally in German by my SEO and WordPresss partner Bettina Heuser, in Berlin. It appears on her website here: https://digitalfahrschule.de/was-ist-spam-score/
If you think spam is only nasty in email form, then you don't know the spam that is generated by programmes that collect and pass on your website address without being asked. As a result, your website ends up on link exchange portals and is listed together with content that is, worst-case, immoral.
Since your website can be associated with this offensive content, this can have a negative impact on your Google ranking.
SEO can take a lot of time, so don't let all your hard SEO work be for nothing because of a few toxic spam links. Backlinks (links from other websites linking to content on your own) are an important building block in your SEO toolbox. Good backlinks can really help!
Toxic Backlinks are a type of spam. (For some good spam, Monty Python created a song about the troubling luncheon meat).
"Basically, any unnatural link that might cause harm to your domain's ranking in Google is considered a toxic backlink." Semrush
How is a spam score calculated?
The website spam score is determined by analysing backlinks pointing to your website and determines the percentage of potential risk of being penalised by Google. MOZ (the famous SEO people) developed software that identifies potential factors that predict when a website could be penalised by Google.
You can test your site here: https://websiteseochecker.com/spam-score-checker
Your Spam Score can then be seen.

The better known a website becomes, e.g. a blog, the more likely it is that automatic programmes will collect the internet address and possibly also automatically pass it on to other link collection points.
Below, the spam score is divided into low – medium – high, the colour code comes from the Ubersuggest SEO tool.
01-30% – low – green, 31-60% – medium – orange, 61-100% – high – red

Spam Score und SEO
It's the value of MOZ's spam score checker that counts, not the assessment of individual backlinks by Ubersuggest.
If you have a high spam score, then it's time to:
+ work on the quality of the content on your website
+ remove the spam backlinks (The higher the spam score, the worse your backlink profile)
But even if the spam score is high, your site is not immediately and completely classified as spam, you can see from the screenshot of the classification by MOZ itself that other factors play a role, such as DA Domain-Authority, PA Page-Authority, TB Total Backlinks, QB Qality Backlinks, PQ Quality Backlinks in percent, MT Moz Trust (on a scale of 1-10), SS Spam Score, OS (Off-Page-SEO Score) (see image below).

The potential risk of a penalty is measured by the assessment of harmful linking to sanctioned websites.
You can scrutinise the incoming links and remove them to prevent a negative impact.
"Not all links are equal. In fact, the wrong type of links can harm your website and negatively affect your rankings, impacting organic traffic, and revenue as a result.

You should be analyzing your backlinks and your competitors' on a regular basis."

https://www.semrush.com/blog/toxic-links-guidelines/
Remove backlinks with Google Disavow
You can remove backlinks via Google's Disavow tool. At what point is it advisable to take care? MOZ recommends this at a spam score of 70% – this means the result of the entire page (see MOZ's checker) and not the assessment of the individual links that Ubersuggest assigns.
You first create a list and then submit it to Google. The prerequisite for this is an active account in the Google Search Console for the website in question.
+ Create a text file, i.e. a file that ends with .txt.
+ Insert the list of backlinks that have a high spam score
+ Submit list to Google
A practical solution here is a table where you can simply copy out the bad links: Create a CSV file that you can import into Google Drive, for example, and you can easily sort this table by spam and copy the links and paste them into the text file.
Then you go to Google and have the links to your website invalidated. Google asks that you use this backlink removal tool wisely: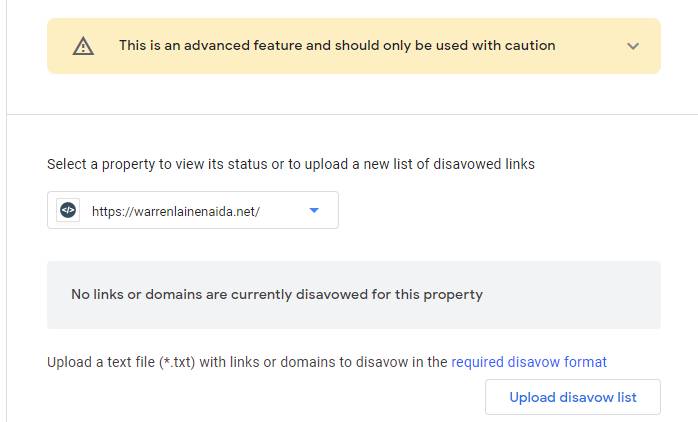 Google: Improper use can adversely affect your website's performance in Google search results. You should only invalidate backlinks if you believe there are a significant number of spam, artificial or low-quality links pointing to your site and you are sure they are causing you problems.
Operating instructions Remove backlinks via Google Disavow
Upload list here: search.google.com/search-console/disavow-links
What John Mueller from Google says about Google Disavow
Here I found a Twitter communication with Google's Senior Webmaster Trends Analyst – John Mueller.
Communication on Twitter. Source seroundtable.com/google-double-downs-on-not-using-link-disavow-files
Questions for Google
Who is a good source for spam link analysis and how exactly does Google understand and see these sites that are from spam? The question is: disavow versus let it ride. Risk on both sides?
How is an ordinary webmaster or SEO marketer supposed to know whether or not to spend time disavowing spam backlinks to their domain?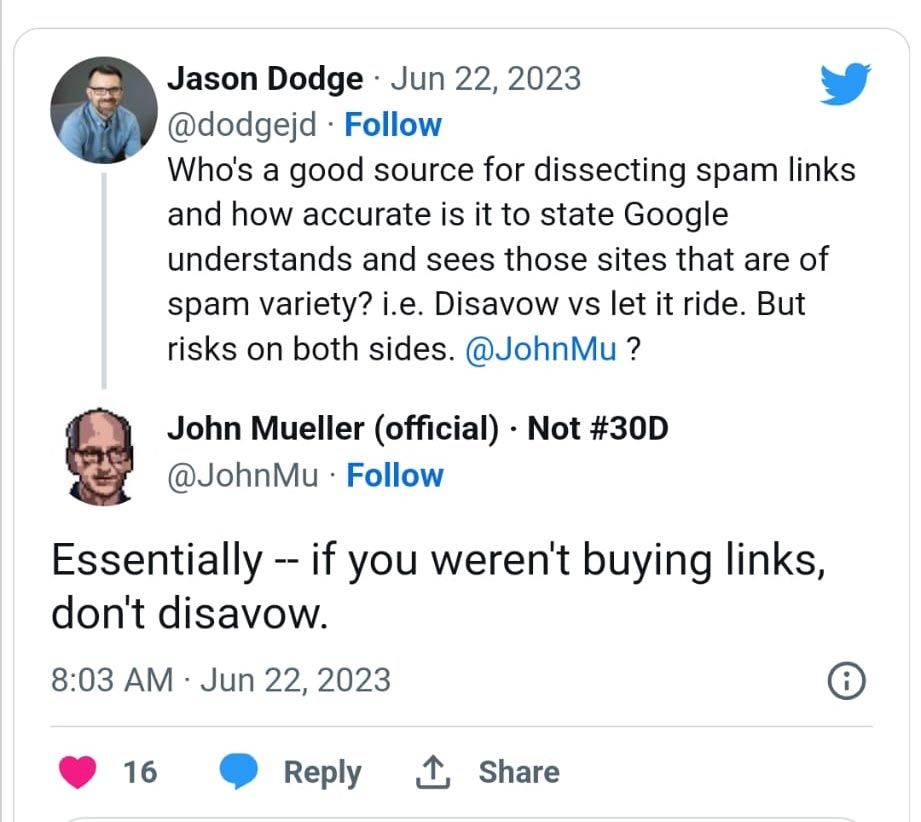 Response from John Mueller
6/22/2023: To the point: if you didn't buy links, don't disavow.
on 8/3/2023: Honestly… anyone who doesn't know should not use it. This is why the tool is not part of the search console UI. That's why we've always advised not to use it unless you know there's an actual problem. To paraphrase: When in doubt, don't use Disavow.
9/3/2023: Some people do things they can charge for, regardless of whether it's necessary or useful. (In response to a request from an SEO agency).
To summarize: Don't use Google's disavow feature unless you've bought backlinks at some point. To the original tweet by John Mueller
With thanks for the featured image to https://unsplash.com/@a_kehmeier