Last Updated on August 25, 2023
This article was originally translated from the original German post by Bettina Heuser, and has been updated. Bettina Heuser is an SEO and Web Design specialist, and German translator of my book SEO: All You Need to Know (2022 on Amazon) / SEO: Alles, was Du wissen musst
What is Helpful Content?
Put Content at the Center for Your Users
What is "Helpful Content" and What are the Consequences for SEO?
Prominent Placement When "Helpful Content" is There
Helpful Google Search Central
In August 2022, Google once again strengthened their Helpful Content mandate, i.e. to provide people with websites that offer "useful information", with an update.
What is Helpful Content?
Ultimately, helpful content is what Google has long rewarded: relevant, user-oriented content. Content created not for search engines, but for people. And that's not a contradiction, because Google rates usability highest. And usability – i.e. user-friendliness – means providing the user with valuable information in a well-prepared manner.
Good content is written for people. Put yourself in the shoes of someone with a problem you can solve:
● + Answer the questions of your target group
● + Write less about yourself and your products – write about problems you solve
● + Your content should be part of a story
● + Format your content to make it easy to read
● + Go into some depth – go the distance
● + Give recommendations for action
● + Keep your content up to date
https://static.googleusercontent.com/media/guidelines.raterhub.com/de/searchqualityevaluatorguidelines.pdf
Put Content at the Center for Your Users
The goal of Google's helpful content update is to reward content that visitors are happy with. Useful content. As always, Google strives to remain the most successful search engine by providing us with the very best search results.
Stop Selling – Start Helping
Marketing is mostly focused on selling our products and services. What about using a different mindset?
Adopting a helping mindset lets us focus on getting our content into the hands of those who need it. Why is this effective? The focus is on others, not us.
Helping others helps us.
+ Writing for your target audience
+ In-depth first-hand knowledge (from your hand, not AI)
+ Determine and strengthen the focus of your website
+ Give the reader so much knowledge / content in the hand, that they are satisfied
+ Learn something concrete, like what is in the product, what does it cost, and how it makes life better?
What is "Helpful Content" and What are the Consequences for SEO?
When creating content, detach yourself from the SEO perspective and think about what really helps your users. Thinking about and finding answers to what Google needs (i.e. writing for search engines) goes against the update and counterproductive.
Think About it: "Helpful" is a conversation between more than two people. Code in the open and talk in the open. Your idea will have more reach and help more people. This is one of magical connections between social media and SEO when SEO means "getting found".
Prominent Placement When "Helpful Content" is There
One of Bettina's articles (in German) deals with backlinks and their value, something that is seldom discussed in the German-speaking world. Within a few days her article was featured by Google (featured snippet):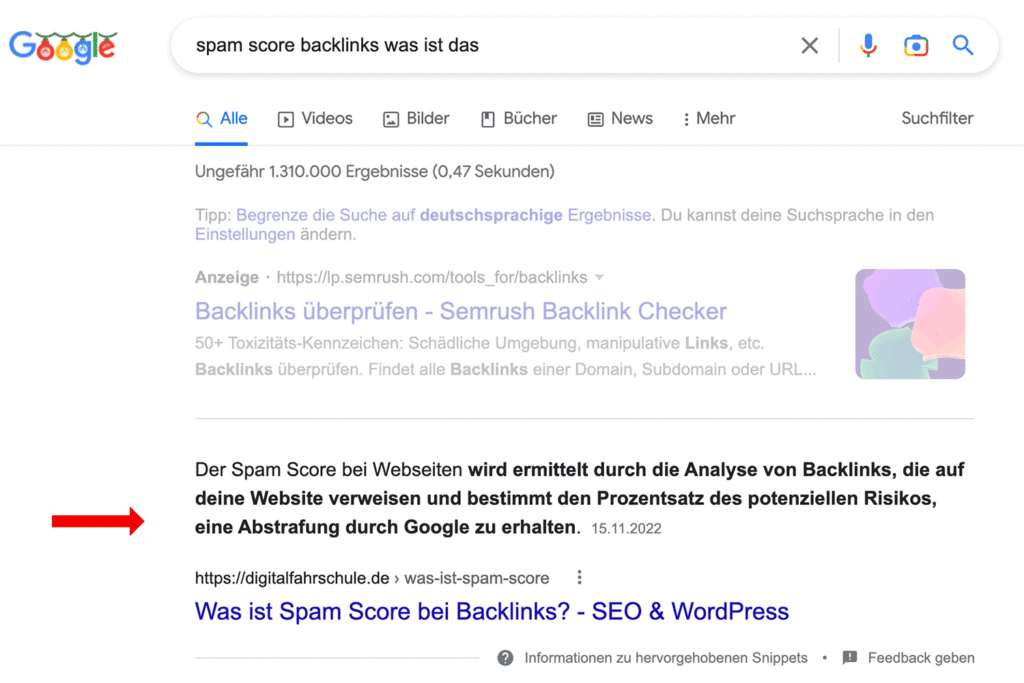 Helpful Google Search Central
Google Search Central, formerly Google Webmasters, helps you with many articles to improve the visibility of your website, with the idea of bringing people and content together – so absolutely helpful: Helpful Content, directly from Google: https://developers.google.com/search/
Here you can find the article from Google about the update: What creators should know about the Helpful Content update in August 2022
A Footnote to Helpful Content
What is Helpful Content in the day and age of ChatGPT/AI? Does it even matter any more? I think it does. For three reasons.
Yes, Informational Helpful Content may be gathered fine with an AI tool, but REAL Helpful Content still has legs.
Reason 1: Helpful Content requires Social Currency. NONE of which can be provided by ChatGPT/AI.
Reason 2: Helpful Content requires Trust. An Authority.
Reason 3: Helpful Content may very well require a Local connection. Proximity.
A conversation – the UR-interaction – also needs 3 things:
+ a way to connect – a platform for example – call it a telephone
+ something of value – what more valuable than information from an Authority?
+ proximity – local is SO proximitous
Example: I want information about the nutritional value of a vegan recipe.
I will look to my Social circle first. (I'll ask Karen).
I will look to an Authority second (confirm what Karen said about Meatless Burgers?)
I will look to my Local connection third – who sells GOOD meatless burger ingredients near my anyway?
What do you think? Does Helpful Content have a future?
Join the Helpful Content conversation on Twitter: https://twitter.com/WarrenLNaida/status/1657077641940197384
With thanks for the image to https://unsplash.com/@jonasjacobsson. It was very helpful!