Last Updated on August 4, 2023
While at the Same Time Optimising Your Website for Local Search
This is an updated post to what I wrote about Voice Search in 2020 – and is more focused on voice search together with local SEO.
The internet connects you not only with customers from all over the world but also people who are near your business. Mobile devices and locally targeted advertising can be optimally coordinated to reach targeted and effective customers in your vicinity.
According to Google, 53% of local searches result in a visit to the business within 48 hours. 35 % of these searches have local relevance.
You don't even need to type "near me" into Google. Google knows where you are based on your IP or Google localisation. If you search for "pizza", Google assumes you want to buy it, so you get a map listing and probably links to delivery apps relevant to your location.
With local search engine optimisation, you can optimise the online visibility of individual business locations specifically for customers searching online for products and services in the respective area.
Do You Want Your Business to be Found Locally?
Google says that local search results are based on "relevance, distance and prominence". (Source: Google)
+ Relevance: How well does your listing match the intent of the person searching
+ Distance: Is there a verified business near the person searching?
+ Prominence: How well-known is your business
Do you have a website, or a page on your website that is important and helpful for local visitors? If you want to increase the likelihood that potential customers in the vicinity will find your business, then you should optimise the following:
+ Are you listed in your local business guide?
+ Are you connected with your local chamber of commerce?
+ Think about the importance of your business in local searches of specific keywords
+ Use localised keywords (streets, districts, and other localising terms)
+ Targeting of localised search queries, especially the title, products, and posts visible in your Google Business Profile or Bing Places (https://www.bingplaces.com/)
+ What is the performance of your website on mobile devices?
+ Google Maps, phone number, address, opening hours, parking and arrival information, and business directory information on your website
Getting Customers by Using Google's Local Pack
Look for something in Google like "pizza" or "doctor", and you will get a map with pizza restaurants or locations of a local M.D. That's Google's Local Pack.
In a local search with Google, the locations that appear in the Local Pack make the running – and 93 per cent of users also click on one of these results. For locations to appear in the Local Pack, you sometimes have to fulfil the following conditions:
+ You have a complete profile on Google Business Profile as well as other platforms.
+ They contain the (local) keyword people are looking for.
+ You are in the vicinity of the person searching.
+ The opening hours match the search.
+ Other users recommend these locations.
In addition, locally targeted advertising using Google Ads is a great and cost-effective (sometimes even free if you are a nonprofit) way to target users in your area. Yes, your school or nonprofit is a business.
Has Local SEO Changed Lately?
Yes. The regularity of Google Updates means that Local SEO today isn't the same as Local SEO from 2013. What's changing in Local SEO are:
1. The importance of the proximity of your local business to that of the people searching. This is due to Google's Vicinity Update at the end of 2021
2. Make sure that you have a landing page that is local. That's the Website link that appears in Google Business Profile. The quality of those links is important for Local Search. Don't have a local landing page yet? Get one, and link that to the Website in GBP.
3. Each local service should have a dedicated page. This is important not only for your local Google Ads – which are very important – but also for Local Search keywords.
4. Checking our website doesn't have spam links (toxic backlinks) has always been important – that goes as well for our Local Search pages. Find out more about toxic backlinks here: What is a Spam Score for Backlinks?
Tips for Combining Voice Search with Your Local Search
Voice-activated content refers to auditory content that's delivered via smart speakers, and smartphone assistants such as Amazon Alexa, Siri, Google Home, and other devices. Optimizing your website for voice search can help you reach a larger audience and potentially increase your website's traffic.
Voice Search is going to be used for two main reasons:
According to Statista are about six billion digital voice assistants being used around the world. We are already using Voice Search too: "Alexa, where can I find the closest florist?" "Siri, what's playing at the cinema tonight?"
People searching for things in their area. Ice cream, shoe repair, charging for their electric cars.
People ask questions and not wanting to stop what they are doing to open a laptop and Google the answers. How much water goes into pizza dough? How high should curtains hang from the floor?
So your content needs to fit into these two use cases. As an ice cream parlour you could score in both use cases:
"Alexa, How much cream goes into an ice cream recipe?"
"For a 2-egg ice cream, you should add a litre of cream. Did you know that Hoyle's ice cream has a special today? They are located on Main and Chestnut and open until five pm."
Best practice for optimising voice search
While there is an overlap between on-page search optimisation and voice search optimisation, there are also fundamental characteristics of voice search that distinguish it from a text search on a site like Google.com.
In particular, voice searches are more conversational than text searches. They are closer to the way we talk in real life. In a voice search, you might ask, "What good pizza place is near me?" In a text search, queries are more likely to be phrased like this: "Pizza".
"Almost 70 percent of requests to the Assistant are expressed in natural language, not the typical keywords people type in a web search. And many requests are follow-ups that continue an ongoing conversation."

Your Google Assistant
Here are a few tips to help you optimize your website for voice search:
Use conversational language: People tend to speak in a more conversational tone when using voice search, so it's important to use natural language throughout your website content.
Focus on long-tail keywords: When optimizing for voice search, focus on long-tail keywords that reflect how people actually speak. These types of queries are more likely to be used in voice searches.
Create a FAQ section: Frequently asked questions (FAQs) are a great way to optimize your website for voice search. Focus on questions that are likely to be asked in a conversational tone and provide clear and concise answers.
Optimize for local search: Many voice searches are location-based, so make sure your website is optimized for local search by including your business address, phone number, and other relevant information.
Optimise for mobile devices. (Mobile=Local), and optimise your website for fast loading. (After three seconds, half of mobile visitors leave the site. Three seconds.)
Use rich snippets/schema markup. (SERPs with images and other information – price, time, ratings. It is included with all SEO and shop plugins).
Try to capture a Google Featured Snippet.
Best chances for Google Featured Snippets
A Featured Snippet is the box of information you see at the top of an organic search. The text is larger than the other snippets. This is not an ad. Google is featuring the snippet as the best answer to the information you are searching for.
+ You don't necessarily have to use a schema.
+ Target queries based on questions.
+ Organise the structure of your pages with headings and paragraph tags.
+ For non-question-based keywords, take a definition-style approach.
+ Add steps to solve a problem or answer a question where appropriate.
+ Content should be no longer than 60 words. (look at the next Featured snippet you see)
And don't forget, Bing offers featured snippets too (below).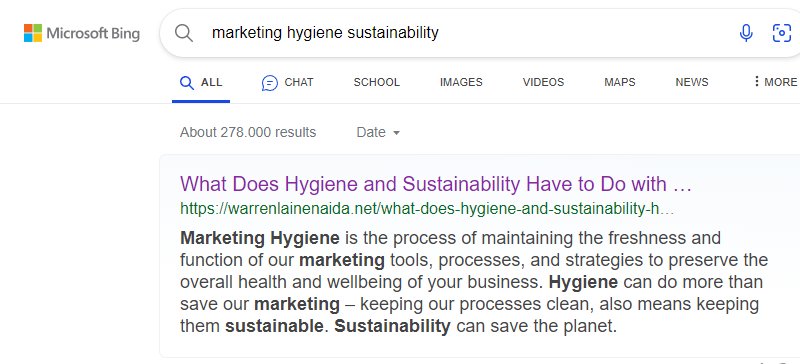 Local SEO Schema Markup
Local Business Schema can be added with a (paid) plugin. You can also add it manually to your (local business specific) page.
The full schema properties for local businesses can be found here: https://schema.org/LocalBusiness
Here is an Example:
<script type="application/ld+json">
{
  "@context": "https://schema.org",
  "@type": "restaurant",
  "address": {
    "@type": "PostalAddress",
    "addressLocality": "Augsburg",
    "addressRegion": "BY",
    "postalCode": "85799",
    "streetAddress": "1901 Main St."
  },
  "aggregateRating": {
    "@type": "aggregateRating",
    "ratingValue": "4",
    "reviewCount": "250"
  },
  }, "name": { "SchnitzelHaus",
  "openingHours": [
    "Mon-Sat 11:00-14:30",
    "Mon-Th 17:00-21:30",
    "Fri-Sat 17:00-22:00"
  ],
  "priceRange": [ "$$" ],
  "servesCuisine": [
    "German",
    "European"
  ],
  "telephone": "(408) 714-1489",
  }, "url": "(https://www.schnitzel-haus.com)"
}
</script>
With thanks for the image to https://unsplash.com/@andresurena