Last Updated on May 22, 2023
Things that small business owners can do without hiring a big SEO company
Us again! This is Bridget Willard and Warren Laine-Naida. Seven thousand miles away coming to you from San Antonio, Texas, and Bremen. This week we have five things for you instead of three. It's a Website Valentine's Day treat!
We want to help our friends who are small businesses, like navigating through the blah of big agencies and all of their jargon, to improve their website. This is why we wrote a book together about Online Marketing for small businesses!
One of the jargon words that they use is SEO, search engine optimization, which I like to call findability. So you plan, you can hire an agency to do optimization for you, but other tools can also help. Let's talk about some of the things that small business owners can do right now, themselves without hiring a big SEO company.
Bridget's Tip #1 Get on Twitter
Okay, well, you know, me, I love Twitter. Tweets are indexed. Today is happy lunar new year. You're the ox, which is my sign. I went and looked on Twitter to see if I could find a cool video. And the third answer down was a carousel popular on Twitter with a bunch of tweets. Google indexes tweets. So if you have a Twitter account and use it, and it's relevant to what your users are looking for, what people are searching for like lunar new year, you might come up with those search results.
So that's one tip is be on Twitter. It's not all about the Kardashians. I promise you.
Warren's Tip #1 Be Your Target Group – Search for Yourself
All right. That's a good tip! I'm a dragon, by the way. I've never searched the Kardashians yet, but I guess I'm not their target group. My first tip? My clients will say, my website's not working, you know? People aren't finding me. Well, your website might be working, but what's not working, is that people can't find you. So I think the first thing people can do is put themselves into the shoes of who is looking for them and actually go into Google and type a search phrase and see if your website shows up.
If your website does appear, which of the pages, you probably have more than one page on your website, which of those pages shows up? I would say that would be my start. That would be my focus. It's your low hanging fruit, your quick win. It's like, aha, I've searched for my product. That's the page. That's okay. Now let's go into that page and see that we can make it the best we can! That would probably be the first thing, really some quick wins because it makes you feel good and you know your website's working, and then you can start to focus on those things that people are finding.
Bridget's Tip #2 Google my Business. Yelp, TrustPilot and co.
Another thing you can do is make sure that Google My Business is filled out. And don't do what I did, which was change your address before you move. I'm still fighting with them to get that back up, but those ratings are critical scoring that you have third party reviews and, that could be Yelp, Google my business. Trustpilot, you know, any of those third-party review systems, you're going to want to make sure that you have claimed your business profile and have it filled out and accurate.
Warren's Tip #2 IS Your Website Running?
That sounds good. That sounds good. I like Google my business and I spend time on that, but I think it's essential because if someone's searching and then all you're right there, it's a free ad!
So the second thing I think that's important is, your website is kind of like a car. If it's not working, you're not going to go anywhere. Most websites that we've got out there, some of those pages we built right initially, we have no idea maybe what's on that content anymore. So I think the second thing would be to make sure your websites are working, which goes back to the first thing we talked about.
Click through all of the pages on your website, and you're probably going to be surprised. It's like, Oh, this content is still there. You know, but we're sitting here at the beginning or middle of February, and one of my client's websites still has the Christmas greeting on it, which they said they were going to take down. I took it down for them yesterday. It's kind of like going out to your car and finding the wheels are flat, so make sure your website's running. That would probably be my second thing.
Bridget and Warren's #3 Tip use Clear Language
Bridget: The analogy with the car is, so does your vehicle function is one thing, but what is it? People say, my website isn't working. So what is it that you want your website to do? If you are offering small business consulting, if you're offering accounting services, if you are offering plumbing services or construction, those kinds of things, make sure that you're using language that the general population uses.
So you know that what you're doing is, you know, I'm giving a marketing consult, but people want business invites. So you're going to need to use those words also and maybe ask a friend what they would search for like, no, what is it that you want to do? Please write it down. What is it that you want people to find you for? Write it down, then ask a couple of people, what they would search for on the internet to find you, and then make sure that the landing page or home page or product page has those words included not stuffed in the meta-description, but as part of the copy.
Warren: That's a good point. That would also wrap up my third point because that's everything we've been talking about is following the same kind of theme. My third thing would probably also be what you were saying. If the website's working, if people find it, if you've got all of these things taken care of, you know, the car is on the road, it's rolling. Now take a step back and look at the terminology that you're using. Look at the content, is it too long? Is it not long enough? Are the headlines your call to action? Is it the sort of terminology and language that your customers are using?
If someone lands on your website and they're looking for something called floaties, swimming floaties, and they land on your page, and they don't see any pictures, and maybe it's spelt differently or something they're going, okay, that's not it. And they're gone.
Bridget: There we go. So I'd be looking for the safety flotation device. I'd be scared, and I'd go, okay, no, this is not what I want.
Warren: It's the same sort of thing to walk into a doughnut store, and all you see or offerings for sandwiches. You're probably not even going to ask for the donut. You want the donuts right in front of you. You want to be comfortable. You don't want to look like a fool. I think all three of those things are along the same line – keep it simple.
Wrap Up
So! You can do all of that by yourself. You don't need to pay a dime. It's okay to have jargon, but also explain it. That's right. It has to have a place. A lot of this jargon scares people away. There are not too many small businesses that have that sort of in that strategy. Steering people away, only a few! Haha!
So that would be our three tips for this week – five actually! Bonus week!
We're looking forward to that and looking forward to seeing you next week. Hopefully, the snow is melted by then!
---
Check out our book!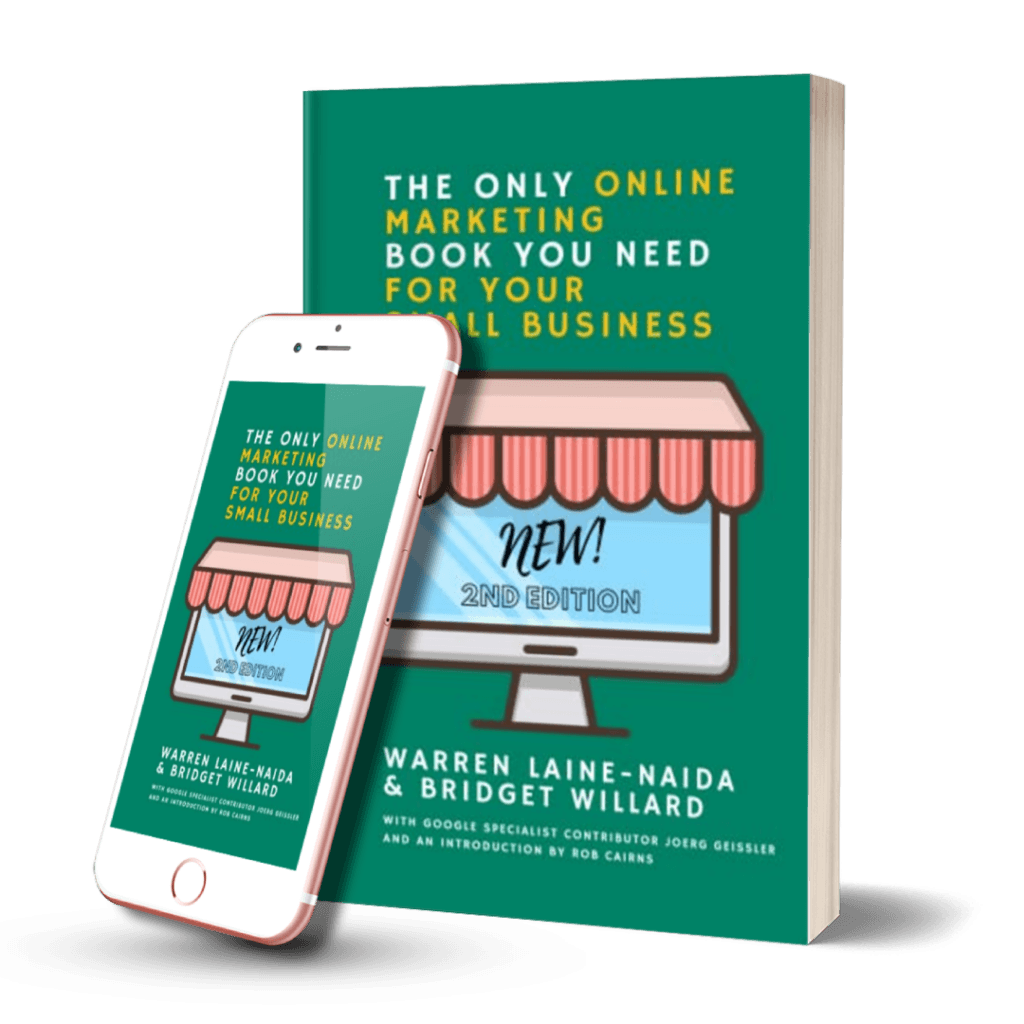 The Only Online Marketing Book You Need for Your Small Business
Includes 8 Actionable Steps to Amazing Online Marketing. Amazon paperback and Kindle ebook. (2 ed. 02/2023)
With thanks to Menschen Foto erstellt von gpointstudio – de.freepik.com for the picture!
Meet Bridget
Your Voice. Your Power. Your Brand.
Bridget Willard – Social Media and Content Marketing
Business to business relationship marketing.