Last Updated on August 25, 2023
Whether you employ 30 people or you're a freelancer – small businesses like yours can always use a helping hand. While free is not always 'for nothing', doing as much as you can with the time and other resources you have can save money. Even a dollar a day at the end of the year is 365 dollars. Stick it in a jar. It makes for a nice NY Eve surprise!
There are many ways you can promote your small business for free. Today, even using many AI tools is free. Think about that for a moment. Free Artificial Intelligence.
I'm very big on Search Engine Optimization (SEO). It's free too. I write about SEO on my blog and for clients, practice it on my websites and those of my clients, teach it, tlk about it with friends and colleagues, and write books about it.
Why is SEO Important for Small Businesses?
Optimising your website for search engines helps you increase your visibility, drive more traffic, and ultimately generate more leads and sales. It also allows you to compete with larger companies by improving your search engine rankings and visibility in local search results. In short, SEO can earn you money.
In fact, when searching for things on Google, 30% of people click on the organic results (unpaid listings), while only 2% click on the paid ads (source: SparkToro). Now, that is not to say using paid ads is a bad thing. There are a lot of advantages to using Google Ads, even with a budget of $1 a day. It's just not the end of the world if you don't.
You have more chances of getting people on your website using organic, out-of-the-box, SEO than paid ads. Free wins.
How Can Small Businesses Improve Their Website's Search Engine Rankings?
So, how can your small business get onto page 1 of Google? Or page 2 or page 3? Anything is better than page 8, right?
Small businesses, like yours can improve their website's search engine rankings by implementing search engine optimization (SEO) strategies. These include:
+ conducting keyword research to identify relevant keywords,
+ optimizing website content and meta tags,
+ building backlinks from reputable websites,
+ and claiming and optimising their Google Business Profile (Google My Business) listing. Have you claimed yours?
Additionally, you can improve your search engine rankings by creating quality content and regularly updating your website. This is what we call On-Page SEO.
On-Page SEO includes your content, page title, headlines, images – everyone on your page.
Off-Page SEO: Being Found Through Other Websites
Content that is helpful for people looking for solutions to their problems and content that can be shared on social media. Social Media is one of the elements of what we call Off-Page SEO and is also indexed and monitored by Google. It's like having an extra slice of cheese on your burger. For free!
Off-Page SEO includes everything outside your website that allows you to be listed and found on a search engine. Links on other sites, your Amazon books, your social media etc.
Tech-SEO: Being Found Because Your Website Works
Ensuring your website has structured HTML, is mobile-friendly, secure and has a fast loading time can also help to rank higher in search engine results. That is what we call Technical-SEO. It's important because, honestly, if your website doesn't load or work on a mobile device, does it matter how good your content is?
Tech-SEO includes your redirects, minimising your code to increase page speed, ensuring your website can be crawled by search engines, and much more!
SEO Success Without a Website
Now, many small businesses don't have a website. They are pretty successful using Facebook Page and Google Business Profile. That's okay! The important thing is that you are happy and as successful as you want.
Finally, it's important that you stay up to date with the latest SEO trends and best practices to stay competitive in the online marketplace. Later in this article is a list of some of the top SEO and Small Business blogs. Or check that out now!
"Now, typically I would say almost every business needs a website, but there are certainly exceptions and you can succeed without one. If you're already succeeding and you don't have one, how much further along could you be if you did have one?"

Rhonda Negard, small business owner of Fat Dog Creatives
10 Must-Know Small Business SEO Facts and Figures
What are Some Common Mistakes Small Businesses Make with Their SEO Efforts?
Let's face it; everybody makes mistakes. I have been in the business for 20 years and sometimes make a fluffer or two! I get it – you have a business to run! Your website and social media are essential but more important is keeping your customers happy – especially Karen, right?
Small businesses often make several common mistakes when it comes to SEO. One of the most common mistakes is not having a website or having an outdated one. Another mistake is not claiming and optimizing their Google My Business listing.
Not targeting the right keywords or not having a clear keyword strategy is also a common mistake. Additionally, small businesses often neglect link-building and fail to create quality content.
A lack of tracking and analysis also causes small businesses to miss out on valuable insights on their SEO efforts.
Biggest Mistake: Not Enough Time Budgeted
In my opinion, though, the biggest mistake everyone seems to make about online marketing, in general, is the idea that SEO, online conversions, likes and shares on social media happen overnight. This is sadly not true. The only thing that happens overnight is that we get one day older. You need to bring a healthy amount of patience to reap the rewards.
In my experience, any marketing takes time, especially:
+ SEO takes between 3 to 6 months for you to get results
+ Google Ads take between 1 and 2 months
+ Social Media attention takes between 3 to 6 months as well – though social media, like any relationship, only gives you what you put in. You have to be engaged.
+ Even having your pages crawled and indexed by Google can take up to 6 months. AND Google may never index all of your pages. Why? Because Google will decide which of your pages is helpful. If you don't offer helpful content, Google will not index your pages.
"Sometimes businesses don't think granular enough about how people search for things. Take the search term 'hamburger'. Don't try and rank for that. You need to understand, what people want, and why they want it. Are you trying to optimize for 'hamburgers'? That will be very difficult. Instead, focus on the type of hamburger people are looking for.

'Frozen Hamburger Patties delivered'. 'Tasty Hamburger Recipes for Summer Grilling'. 'Vegan or Vegetarian Hamburger Alternatives'. You need to think about 'why' someone is searching for a specific term and try and rank for that instead."

Bridget Willard, small business content and social media consultant at bridgetwillard.com
How Important is Keyword Research for Small Business SEO?
Keyword research is an essential part of small business SEO, as it helps identify the specific words and phrases that potential customers use to find products or services like those offered by your business.
Optimizing your website and content for these keywords can increase your visibility in search engine results pages and drive more targeted traffic to your site.
Additionally, keyword research can help you to understand your target audience better and create content that speaks directly to their needs and interests. Overall, keyword research is crucial for small business SEO, as it enables you to identify opportunities, understand your audience, and create effective SEO strategies that align with your business goals.
How Can Small Businesses Use Backlinks to Improve Their SEO?
Backlinks are also a crucial component of SEO for small businesses. These are links from other websites that point to your website. The more high-quality backlinks you have, higher you may rank in search engine results.
Small businesses can use backlinks to improve their SEO by creating valuable and interesting content that other websites want to link to. They can also reach out to other websites in their industry and offer guest blog posts. Building relationships with other websites in your industry can also lead to backlinks. Share. Support. Raise each other up!
"Backlinks are especially valuable for SEO because they represent a "vote of confidence" from one site to another. In essence, backlinks to your website are a signal to search engines that others vouch for your content."

moz.com
How Can Small Businesses Use AI Tools to Improve Their SEO?
If you're using Google to search for things on the internet, you are already using and AI tool. Artificial Intelligence isn't a menace. Yet. It's currently helping us with tasks we simply can't get our heads around. Like searching for answers in the billions of web pages located on the internet.
AI can also help us get a grip on other tasks that would take us a lot of time were we to do them ourselves. Tasks such as:
+ creating a list of keywords
+ translating a list of keywords
+ sorting those keywords into thematic groups
+ creating a list of headlines for our blog posts
+ summarising articles
+ deciding on use cases
+ content optimisation
+ and much more.
Two AI tools your small business should look into are chat.openai.com/chat and deepl.com/en/blog/introducing-deepl-write.
ChatGPT is a natural language processing tool driven by AI technology that allows you to have human-like conversations and much more with a chatbot.
DeepL Write is an AI writing tool that improves written communication in both English and German.
Both of these tools assisted me in the creation of this article. They may help you as well.
How Can Small Businesses Stay Up to Date with the Latest SEO Trends and Best Practices?
Small businesses can stay up-to-date with the latest SEO trends and best practices by subscribing to industry blogs and publications, attending conferences and webinars, and following well-known SEO experts on social media.
It's also important to regularly review and adjust your website's SEO strategy by conducting keyword research, analyzing competitors, and ensuring your website is mobile-friendly and has a robust and user-friendly structure.
Additionally, small businesses can invest in tools and services that can help them monitor their progress and identify areas for improvement. And there is always room to improve.
Have you nailed position one in Google? Great! Now here's a hot tip: find out how you can make your website accessible for everyone.
"Inaccessible content kills SEO and conversion. There is more to text and images than you realise. Imagine you need to find your way with a roadmap where all destinations are called "here".

Anne Bovelett, web & accessibility consultant at annebovelett.eu
I Can Recommend these 10 Popular Sites for Your Small Business
All the above blogs are popular. Some of them are from companies which provide SEO toolkits, and a few of them are from well-known SEO experts. They will be very helpful for small business owners to keep up with the latest SEO trends and strategies.
"Whether you're brand new to search engine optimization or a seasoned SEO expert, there's always new information on how to elevate your website continually. Trying to find the best sources of information, trends, and tips on improving visibility and increasing your leads can be tricky, so to help you out, we've listed our top SEO blogs."

Theedigital.com The Top SEO Blogs to Follow
Summing it All Up: Take Advantage of Available AI and SEO tools.
Use the tools, but don't become a slave to them. If you build websites, be able to do some HTML, CSS, and PHP. Why? If your website breaks, you might be able to fix it without spending money on a programmer. If you have a bakery, understand the basics of accounting. Why? So your accountant doesn't send you a postcard from The Maldives, right?
Learning how to do something may take you out of your comfort zone, but that's where the excitement is! If you can do something with your own hands, you contribute to keeping your website a sustainable product. You ensure it's accessible. You have to begin there. If you can't access it, then how will you know others can?
When using AI tools, it's important that you don't let them take over your business. Use these tools to help your business – don't give them the keys. Not everyone can write, but if you had a helping hand, you might be surprised by how talented you are!
If you use ChatGPT or a similar tool, use it to get started. Create a framework if this assists you with your writing. Never take the text and use it verbatim. The tools can help inspire you, but they should not be used as your own work.
The same can be said for SEO tools. Use them to understand the process better. Read a blog post about a process, and then try it yourself. Test the results. Look at other websites. Get your hands dirty. Fail! And try again.
Online Marketing & SEO 101: 2 Books That Will Help Your Small Business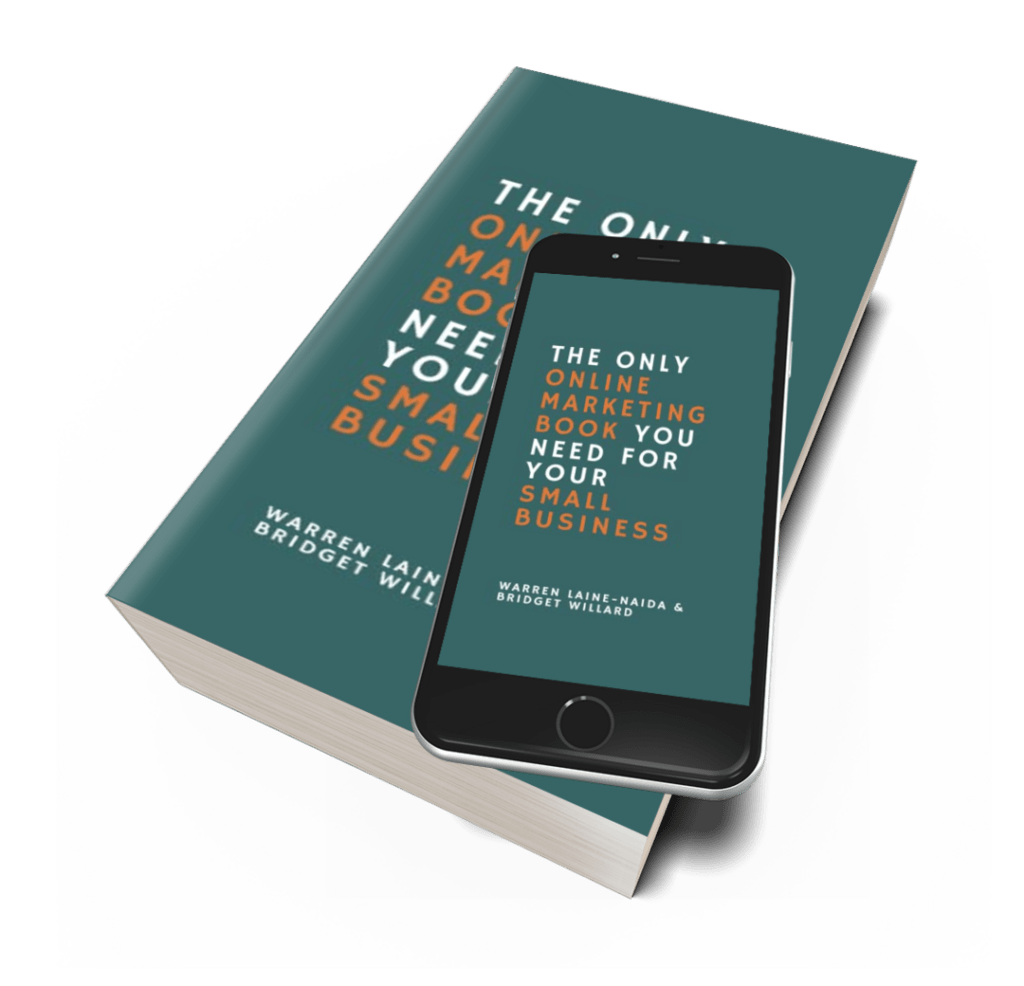 The Only Online Marketing Book You Need for Your Small Business
Includes 8 Actionable Steps to Amazing Online Marketing. Amazon paperback and Kindle ebook. (2 ed. 02/2023)
Do You Have Questions? Please Drop Me a Line!
with many thanks to https://unsplash.com/@thepeoplesdigital for the image!